Calibration Grade Load Cells
Tovey Engineering CS Series calibration load cells are designed for metrology lab use. These load cells meet ASTM E74 requirements for Class AA to 10% of range (to 100K lbf ) and Class A to 2% of range (to 100K lbf ), achieving ASTM E74 uncertainty of less than .005% of range or ISO 376 Class 00 levels. Tovey CS load cells exhibit exceptional rotational performance and unequaled capacity to compensate for misaligned loads. They are used in hundreds of metrology labs worldwide. Highly stable from year-to-year, Tovey CS load cells are preferred in research and government labs and among sophisticated corporate customers. Available with custom adapters, case, and complementary instruments as complete kits. Capacities 300 to 600,000 lbf.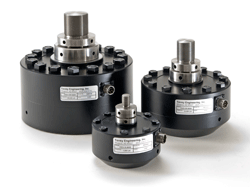 Calibration Grade Load Cells 300-100K lbf 1.5-500 kN and High Capacity Load Cells 200K-1000K lbf 1000-4500 kN.