Calibration Services
Tovey Engineering offers accredited force transducer calibration from 1 gf to 1 million lbf. and primary torque calibration to 100,000 lbf-in. State-of-the-art calibration facilities include both deadweight and servo-controlled hydraulic transfer standard calibration rigs. Force calibrations are performed in compliance with ISO 17025 requirements (under NVLAP Lab Code 200662-0), and meet the requirements of NIST Handbook 150, ISO/IEC 17025 and ANSI Z540.
Experienced Staff, Quick Turnaround
Calibrations are performed by experienced and knowledgeable technical staff. The calibration lab is overseen by the current Chairman of ASTM Committee E28.01 for calibration of load cells and testing machines, a NVLAP Technical Expert in force calibration. All force calibrations are performed quickly and efficiently to minimize customer downtime.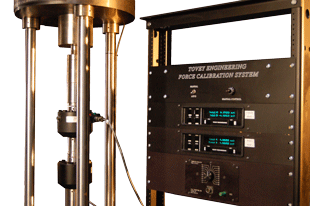 Accreditations
NVLAP Lab Code 200662-0
ANSI Z540, ISO/IEC 17025
ASTM E74, ISO 376