Manual Force Calibration Systems
Tovey Engineering now offers a very economical, manually operated calibration system. Designed specifically for smaller calibration labs, these systems provide accurate calibration of load cells in both tension and compression. Capacities available from 2klbf to 100klbf.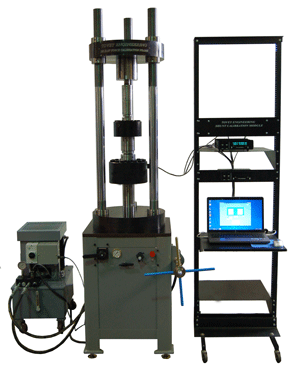 Features:
System includes load frame, transfer standard load cells, hydraulic hand operated pump, data acquisition and analysis software.
Universal fixture hardware allows tension and compression calibration without changeover.
Easy setup and operation.
Automated data acquisition, analysis, and storage.
Simple file export and report writing.
Data analysis and output is compliant with national and international standards.
Options available include:
Hydraulic power unit.
Wide variety of mounting adapters.
Metric capacities.
Custom designs- based on customer specific application needs.